History of Slovakia
Sunday 04 April 2010 | 8369 views
Zoom in Zoom out | Add to Lightbox | Print page | Send to friend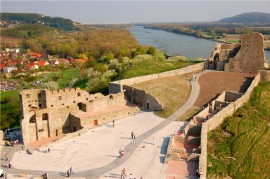 History of Slovakia
Slovak republic is a landlocked country in Central Europe with a population of over five million and an area of about 49,000 square kilometres (19,000 sq mi). Slovakia borders the Czech Republic and Austria to the west, Poland to the north, Ukraine to the east and Hungary to the south. The largest city is its capital, Bratislava. The second largest city is Košice. Slovakia is a member state of the European Union, NATO, UN, OECD, WTO, UNESCO and other international organizations.

The Slavs arrived in the territory of present day Slovakia in the fifth and sixth centuries AD during the Migration Period. In the course of history, various parts of today's Slovakia belonged to Samo's Empire (the first known political unit of Slavs), Great Moravia, Kingdom of Hungary, the Austro-Hungarian Empire or Habsburg Empire, and Czechoslovakia. An independent Slovak state briefly existed during World War II, during which Slovakia was a dependency of the Nazi Germany 1939–1944. From 1945 Slovakia once again became a part of Czechoslovakia. The present-day Slovakia became an independent state on January 1, 1993 after the peaceful dissolution of its federation with the Czech Republic.

Slovakia is a high-income advanced economy with one of the fastest growth rates in the EU and OECD. The country joined the European Union in 2004 and the Eurozone on January 1, 2009. Slovakia together with Slovenia are the only former Communist nations to be part of the European Union, Eurozone, Schengen Area and NATO simultaneously.
Source: www.wikipedia.org
Photo: Dominik Bugár, Slovakia.travel