Slovak cuisine
Tuesday 06 April 2010 | 15426 views
Zoom in Zoom out | Add to Lightbox | Print page | Send to friend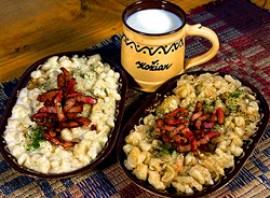 Slovak cuisine
In Slovakia there are a lot of restaurants that offer typical Slovak specialities, and the specialities of the neighbouring countries, too. Especially you can taste Hungarian, Czech and Austrian cooking that influenced the original Slovak cooking.
The Slovak most typical of all Slovak dishes is "bryndzové halušky" - potato dumplings with special sheep's cheese and fried bacon. The menu of the restaurants offer the typical Slovak soups, as for example: the soup of garlic, onion, of potatoes, sauerkraut, bean, lentils, and so on. Soups are dense and nourishing and, especially in the past, replaced the second dish.
The typical Slovak dishes are: the speciality of the Slovakia south and west - roast of goose and roast duck, the typical dishes of all Slovak country - speciality of game, speciality of pig (a lot of kinf of sausages, …), dishes based on fish, above all carp, pike and zander.
In the past, Slovak cooking had a lot of dishes without meat, above all based on flour, like for example the already mentioned halusky (small dumplings) - that where prepared by a mixture of flour and potatoes, accompanied with cheese of sheep (bryndza), covered with bacon, or with the combination of sauerkraut, or of cottage cheese, the pirohy - that are a kind of Italian ravioli, that are stuffed with cottage cheese, sheep cheese (bryndza) or, the sweet version, with jam, cover with poppy or with the minced walnuts.
The excellent taste and aroma of the Slovak specialities are well accompanied with the excellent quality of Slovak wines, from the zone of Bratislava (Rheinriesling, Welschriesling, Gruner Veltliner, Traminer, Silvaner and Muller-Thurgau) and of eastern Slovakia (Tokai), but also with the great offer of Slovak beers (Zlaty bazant, Kelt, Topvar, etc). The typical Slovak aperitifs is slivovica (plum brandy), hruskovica (pear brandy), borovicka (juniper brandy), demanovka (herb liqueur or herb bitter).
Recipe - Dumplings with sheep cheese (bryndzove halušky):
800g potatoes
2 eggs
150g fine wheat flour
150g coarse wheat flour
Salt
300g sheep cheese (bryndza)
200g smoked bacon
Pealed potatoes are washed and grated. Add eggs, fine and coarse wheat flour, salt and mix dough, which is then bit-by-bit dropped into boiling water with little salt.
Boiled dumplings are drained and mixed with bryndza. Fry smoked bacon, cut into small cubes, in a pan and than scatter them on top and add a little bacon fat.
Slovak dishes
Halušky
o Bryndzové halušky (potato dumplings with bryndza - a sheep's cheese)
o Strapačky
o Chľustačky
Lokše (pancakes made of potato-dough backed directly on a cook-stove)
Bryndzové pirohy
Parené buchty
Široké rezance s tvarohom a slaninou: tagliatelle with quark and fried bacon
Zemiakové placky (potato pancakes fried in oil), also called Haruľa in regions Horehronie, Pohronie, Kysuce and Orava
Žemľovka
Granadír or Granadírsky pochod
Ryžový nàkyp
Orechovník, a sweet Nut roll
Makovník (poppy seeds roll)
Bratislavské rožteky

Soups and sauces
Fazuľová (soup made of beans)
Kapustnica (soup made of sauerkraut)
Rezancová (chicken soup with noodles)
Kapustnica (soup of sauerkraut with
mushrooms)
Traditional sweets and cookies

Usually baked at Christmas time, but also all year long, Slovak traditional sweets are usually home baked and harder to find in stores.
Laskonky: fluffy dough with walnuts and creamy filling
Mačacie oči
Trotle: 2 layers of cookie-like round tarts filled with chocolate cream and half-dipped in dark chocolate.
Vajcový koňak: the equivalent of eggnog.
Medovníčky
Medvedie labky
Trdelnik or Skalický trdelnik, a traditional cake baked on a rotating spit over open fire
Haboše
Čeregi
Meat

Pork, beef and poultry are the main meats consumed in Slovakia, with pork being the most popular by a substantial margin. Among poultry, chicken is most common, although duck, goose, and turkey are also well established. A blood sausage called jaternice also has a following, containing any and all parts of a butchered pig; it is an acquired taste. Game meats, especially boar, rabbit, and venison, are also widely available throughout the year. Lamb and goat are also available, but for the most part are not very popular. The consumption of horse meat is generally frowned upon.
Christmas dish (fish and potato salad with
mayo and veg)
Kuracie prsia (Chicken dish)
(Pork with milano sauce and yeast dumpling)
Eating habits
Traditionally the main meal of the day is lunch, eaten around noon. However, changing working habits have forced this to be altered in recent decades; today, it is not uncommon for many Slovaks to eat their main meal in the evening.

It is a common custom in Slovakia to bring a bottle of wine or spirits as a gift if you are invited to visit someone's home.
Illustrated recipes: www.slovakcooking.com
Source: www.slovakiatravels.com, www.wikipedia.org
More info: >www.slovakia.travel
Photo: SKC photo stock