High Tatras
Tuesday 06 April 2010 | 2643 views
Zoom in Zoom out | Add to Lightbox | Print page | Send to friend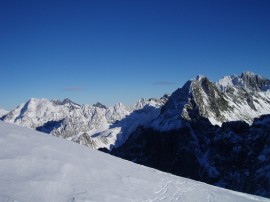 High Tatras (Vysoké Tatry)

High Tatras are the biggest mountains in Slovakia and simultaneously the smallest in Europe. The highest mountain is Gerlachovský Štít at altitude of 2 655 metres about the sea level. Tatras are situated in north Slovakia spreaded beyond the boundaries with Poland but the biggest part of mountains is in Slovakia. The Sub-Tatran habitations are very traditional and most of them remains authentic. High Tatras are the most popular tourist destination as the nature has a lot to offer. There are beautiful lakes, valleys, hills, tarns, tourist causeways and breath taking panorama. You can find there animals like lizzards, marmots, squirrels and bears.
High Tatras also offer many opportunities for skiing as well as relaxing activities. There are many ski centres, for example Ždiar as well as spas such as Štrbské Pleso.
The town Poprad is very significant tourist centre also centre of Spiš region called the entrance gateway to Tatras. It has an airport, railways, coach station which allows quick and credible access to Tatras. First written record of Poprad is from 1256.
The town had been formed by six different habitations; Poprad, Matejoce, Kvetnica, Spišska Sobota, Veľká and Stráže pod Tatrami. Until recent years Poprad was characterized as a town of heavy industry. Today the town is concentrating on tourist development.

Valleys in Tatras

Veľká Studená Dolina is very attractive for tourist as it has the highest number of tarns. The valley is seven kilometers long. In the south it is lined by Slávkovský štít. Through the valley run many tourist trails which are joined with other valleys like Bielovodská dolina or Velická dolina. Starting point to Veľká Studená Dolina is from Tatranská Lesná, Hrebienok and Starý Smokovec.
Malá Studená Dolina is four and half kilometer long. Its history is connected with mining of gold and copper until 19th century. There are many paths, waterfalls and cottages with snacks on the way there. The valley is also interconnected with others valley Javorová dolina and Veľká Studená dolina. There are cottages Téryho chata, Zámkovského chata and tarns. Starting points are from Hrebienok, Starý Smokovec and Tatranská Lesná.
Lakes in the High Tatras

Veľké Hincovo Pleso is the biggest and the deepest tarn in Slovakia. It is located in Mengusovská Dolina.
Skalnaté Pleso originally Lomnické Pleso is located in Skalnatá Dolina under Lomnický Štít. Climate factors and human interference cause its destruction.
Štrbské Pleso is the most visited tarn in Tatras as the access is quick by tram from Poprad railway station. Štrbské Pleso is also well known as the highest tatarian settlement at altitude of 1335 meters above the sea level. There are many tourist facilities, recreation centre, hotels and also ski centres. Hikers start their tour here for Mengusovská dolina.
Mountains in Tatras

Lomnický Štít is well known and very popular place in High Tatra. Its altitude is 2633 metres above the sea level. The first mountain climb made an English traveler Robert Towson in 1793 from Malá Studená Dolina. Today the mountain is accessable by cable car from Tatranská Lomnica. At the top of the mountain there is an astronomic and meteorological office.
Gerlachovský Štít is the highest mountain of High Tatra and the highest in Slovakia. Its altitude is 2655 metres above sea level. To climb the mountain is only possible if accompanied by professional mountaineer. The first climb was accomplished in 1855. There are two ways to climb the mountain, first starts in Velická Dolina and second in Batizovská Dolina. The scenary of Gerlachovský štít attracts many people for its absolutely gorgeous view.
Kriváň is located in western part of High Tatra at altitude of 2494 metres. Its slopes uncover its history from 15th century when mining work started. There were many foreign research scientists who explored Kriváň in 18th century. Kriváň became a symbol of Slovak freedom and was used as a motive for many poems until today. From 1955 traditional climbing is organized in commemorate of Slovak National Uprising.
Rysy is boundary mauntain with Poland at altitude of 2499 metres. It has three peaks; one called north-western marginal, second south-eastern middle, and third the smallest. The first recorded climbing is from 1840. In 1913 Lenin visited Rysy.
The city of Vysoké Tatry was established in 1947 and consists of 15 different separate habitations:
Podbanské
Horný Smokovec
Štrbské Pleso
Smokovec
Tatranská Lesná
Tatranské Matliare
Kežmarské Žlaby
Lomnica
Tatranská Kotlina
Vyšné Hágy
Nová Polianka
Tatranská Polianka
Tatranské Zruby
Nový Smokovec
Starý Smokovec
More info:
Photo: Lukáš Hanusin