Events
30. mája príde východ do Londýna!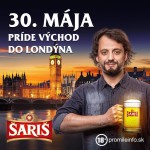 Start: 30.05.2015 16:00
End: 30.05.2015 23:55
Place: 229 The Venue
Ticket: 0 €
Phone number:
Web:
E-mail:

Description:
Vezmi celú partiu a príď 30. mája od 16:00 na 229 THE VENUE!
FB event: https://www.facebook.com/events/880738908664710/
Zažijete presne to, čo poznáte najlepšie z rodného východu.

Čaka na vás jedinečná pivná party s Juniorom a MARIÁNOM ČEKOVSKÝM, ktorý ťa navyše pobaví svojou show ČEKY POINT.

... a čo je najhlavnejšie:

PIVO ŠARIŠ za vami pricestuje špeciálnym retro autom s pojazdným výčapom a bezodným sudom plným toho najlepšieho piva na svete za "zvýchodnenú" cenu.

Foťák brať nemusíte. Pozdrav z akcie domov na východ pošleme za vás my.

A pár najväčším SRDCOM VÝCHODNIAROM postavíme v rodnom meste billboard.

A aby to nebolo málo, príde a zahrá vám IMT SMILE!

Okrem toho sa môžete tešiť na:

Šariš orchester: východniarska hudba hraná na špeciálnych pivných hudobných nástrojov

Bútľavá fľaša: debatný kútik a stand up comedy o tom, čo máš na východe najradšej.

Tešíme sa na vás!